Going Beyond Keto: Low Net Carb Options Get Pizza Lovers in the Door—Three Trends to Watch

New Products | August 09, 2022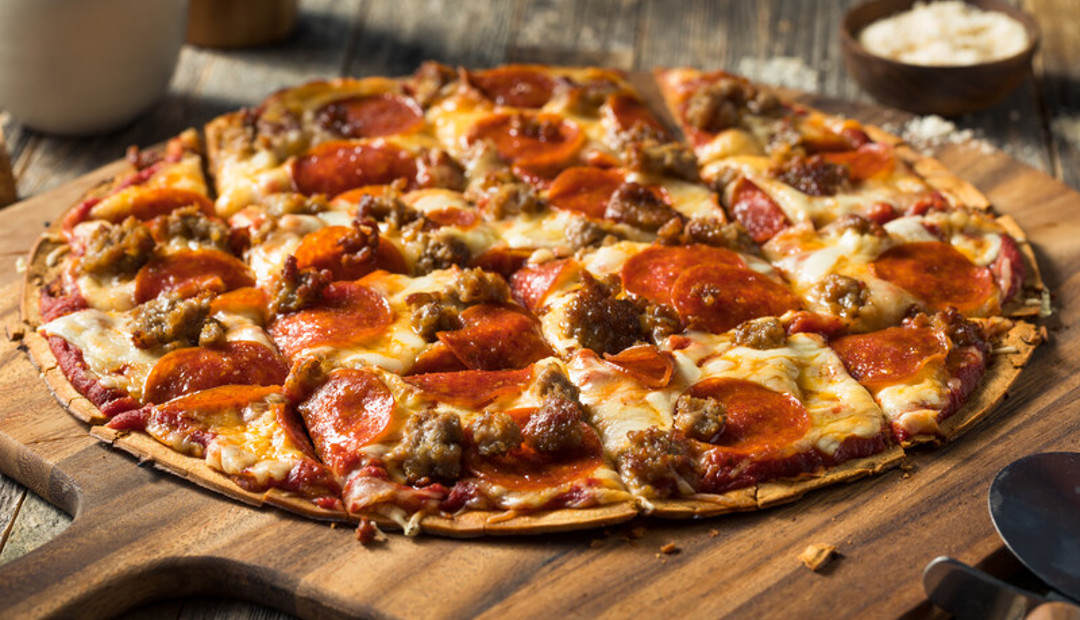 There are two types of consumers when it comes to demand for carb-heavy foods, like pizza: those who say to bring on all the carbs and those who reinvent the recipes with "keto-friendly" ingredients that can help limit carbs or the potential impact of carbs . And according to the latest data from Ardent Mills' proprietary research, CPG manufacturers, foodservice manufacturers, and commercial bakers that want to serve up the best pizza options for their customers shouldn't limit themselves to keto-only options. As it turns out, nearly any carb-conscious1 offering will do.
Why? Because there is a significant—and often overlooked—difference between consumers who identify as wanting to reduce the amount or impact of carbs they consume in their diets (and look for products and dining experiences that cater to that desire) and consumers who claim to be "keto." So how many carb reduction-focused consumers are we talking about here? Well … quite a lot, actually. About four times the number of consumers who self-identify as "keto"2 report attempting to reduce or eliminate carbs from their diet. A quick reminder: "Ketosis is a process that happens when your body doesn't have enough carbohydrates to burn for energy. Instead, it burns fat and makes things called ketones, which it can use for fuel."3
In fact, while only approximately 6–8% of consumers follow a keto diet, many say they structure their diet to minimize or avoid carbs regularly (16%) or occasionally (31%). And 28% of those consumers claim they will reduce carb intake more frequently over the next 12 months.4
This is good news for CPG manufacturers, foodservice providers, and commercial bakers that experiment with carb-conscious pizza options—and fantastic news for you as you move to meet rising customer demand.
Read on to explore three ways you can optimize the demand for carb-conscious pizza products and how that can impact your organization's innovation plans for this year (and beyond).
Interest in Carb-Conscious Options Abounds
We don't need to look any further than the $4 billion of products sold in the "carb-conscious category" in 2020—a 20% YOY increase over 20195—to know where consumer interest lies. But shopper online search behavior makes it especially clear that carb-conscious options are in high demand on both retailers' shelves and in restaurants, even when compared to interest in explicitly "keto-friendly" products.6
According to recent data from Semrush, several low carb and carb-conscious keywords have a notable number of average monthly searches (in the U.S. alone), consistently trumping search terms that contain "keto":
"low carb bread" (33,100 searches per month)
"keto-friendly bread" (4,400 searches per month)
"low carb pizza" (5,400 searches per month)
"keto-friendly pizza" (1,000 searches per month)
The carb-conscious angle has the potential to deliver big wins for commercial bakers, CPG manufacturers, and foodservice brands, but only if they expand their portfolio of products and give consumers the exact mix of great taste and nutritional value customers are looking for. And that's much easier to achieve with the support of a partner that has the ability to influence nearly every step of the supply chain for low net carb and carb-conscious flour, from the field to the factory floor.
Ardent Mills Net Carb Flour Blends replace conventional flour options to help you make outstanding low net carb baked goods with a taste and texture that consumers love. Each flour blend is non-GMO project verifiable, keto-certifiable, and dairy-free; has no added sugar; and is made from uniquely blended grains, resulting in pizza crust, breadsticks, and breading that can help you meet consumer preferences for taste, texture, and nutrition.
Carb-Conscious Foodservice Options Explode on the Scene
CPG is not the only space making the most of customer interest in snacks, meals, and foods that are lighter on carbs. According to Ardent Mills' data, nearly 500 items include a low carb or low net carb claim on foodservice menus today, and nearly 1 in 4 consumers said they would definitely order a pizza made with a low net carb crust.
However, when it comes to low net carb vs. keto in the foodservices space, it's important to note that despite consumer interest in low net carb options outweighing keto, foodservice giants are leaning heavily into "keto-approved"- or "keto-friendly"-tagged menu options—often containing a perceived "better for you" marketing slant.
Foodservice organizations looking to court new customers (and build sustained customer loyalty) should keep top of mind that consumers can make low carb and keto-friendly "pizza" options at home, replacing the crust with alternatives like chicken, bacon, ground beef, and cheese. As such, foodservice providers that can master a low net carb crust made of real grains have a lot to offer customers who crave a more traditional texture and mouthfeel, like the unique grain combination offered by one of Ardent Mills Net Carb Flour Blends.
Learn more about creating the perfect crust at Ardent Mills' Pizza Hub.
Commercial Bakers Toss Up Low Net Carb Options
Customers walking through the bakery aisle increasingly want to make food choices that strike the right balance between great taste and a perceived underlying sense of wellness. According to proprietary research from Ardent Mills, about 45% of consumers currently participate in this taste and wellness mindset frequently, and 50% say they're looking for new food products to meet their goals relative to this mindset. This creates the perfect opportunity for commercial bakers to adopt carb-conscious ingredients and capture consumers' taste preferences in a manner that is reflective of their personal nutritional goals.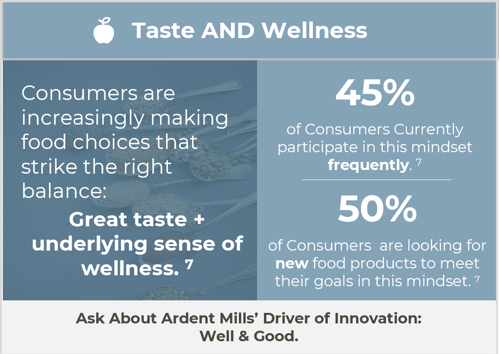 Pizza isn't the only traditionally carb-heavy category getting a makeover, however. Low carb and low net carb bakery trends outside of the realm of pizza include Crepini's Egg White Thins, a protein egg white wrap, and Mission's Carb Balance Flour Tortillas. And in 2021, Bimbo Bakeries USA launched Sara Lee Delightful White Made with Whole Grain, a keto-friendly bread with only 6 grams of net carbs per slice.8
But beware: Non-keto-friendly ingredients like sugar and starch are a component of what traditionally provides the wealth of functionality expected from baked goods. When you begin to create new products that bring you into the low carb or low net carb zone, you should be prepared to change your recipes, processes, and ingredients to compensate for those changes in functionality.
For many organizations, this "fix" is as simple as partnering with a supplier like Ardent Mills that can help by providing mixes developed for use in commercial settings. These mixes deliver similar functionality as traditional blends with the addition of ingredients like fiber. For others, it might require a new way of working. For example, Ron Mathews, owner of Rockstar Pizza in Brownsburg, Indiana, found he can only make keto dough by hand, not with his mixer, because his low carb pizza dough is much stickier than glutinous dough. This can translate into a more time-consuming process. Here's where an experienced partner like Ardent Mills shines, providing you with access to deep technical expertise and R&D innovation while helping to ensure you have the resources required for you to grow and find long-term success.
Pizza Lovers Don't Necessarily Love Carbs
The love affair between consumers and pizza is as strong as ever, and dieting doesn't seem to have put a dent in it. Keto-centric and carb-conscious eaters are no exception, and that remains a largely untapped competitive advantage for many CPG manufacturers, foodservice providers, and commercial bakers looking for a way to deliver the highest quality products to their customers. Don't ignore the potential of carb-conscious and keto-friendly pizza products or the power of partnering with a leading source of trusted flour brands, mixes, and custom solutions.
Click here to explore the potential of carb-conscious pizza at Ardent Mills' Pizza Hub.
1"Carb-conscious" refers to reducing carbs—or potentially reducing the impact of carbs—through keto-friendly or low net carb type products.
2Ardent Mills Proprietary Research
3"Ketosis." WebMD. 2022. https://www.webmd.com/diabetes/type-1-diabetes-guide/what-is-ketosis#1. (19 June 2022)
4Ardent Mills Proprietary Research
5Ardent Mills Proprietary Research
7Ardent Mills Proprietary Research.
8Ardent Mills Proprietary Research. Any mention of third parties Does not imply an affiliation with Ardent Mills.
Sign up for Latest Updates
You may also like...