When Is Flour Ready to Eat?

Community / Leadership | November 18, 2021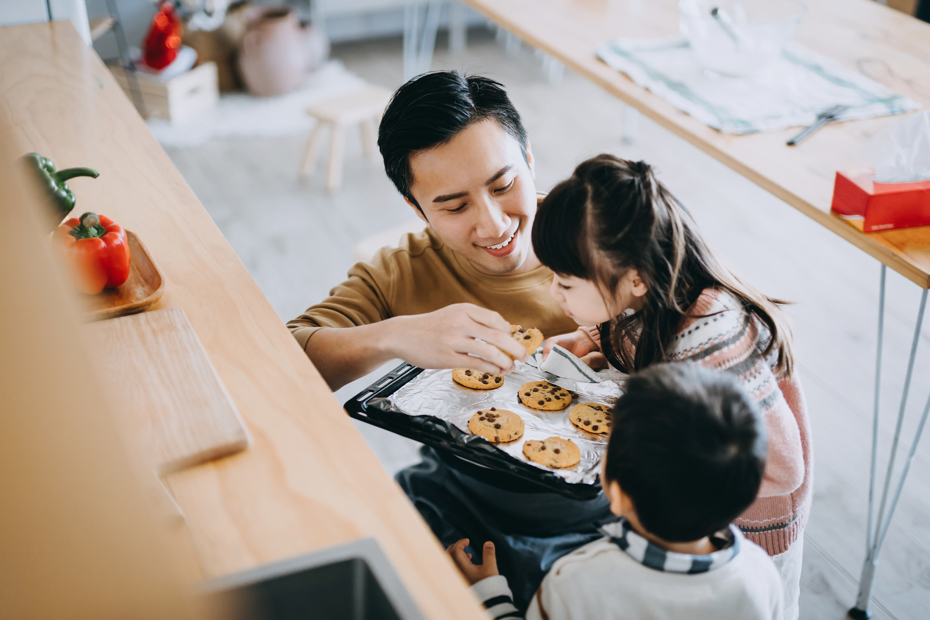 Flour is a staple in kitchens across North America, but, even with its ubiquitous presence, many consumers do not understand the risk of eating a raw food ingredient.  Grown outdoors with exposure to nature, plants whose grain and seeds are milled into flour can potentially be exposed to bacteria and pathogens in the fields they've grown in. That's why it's important for manufacturers to know how to make raw flour ready to eat in applications ranging from edible doughs to bars and baked goods.  
Is flour a raw food ingredient? 
Yes – flour is milled from raw agricultural ingredients that grow outdoors. Wheat, barley, rye, and other plants whose grains are harvested seasonally by farmers are exposed to the natural environment before crops are transported to mills. There, the grain is sorted and sifted to remove debris, and then ground to become flour that is packaged for use. Flour is considered to be raw unless treated or cooked.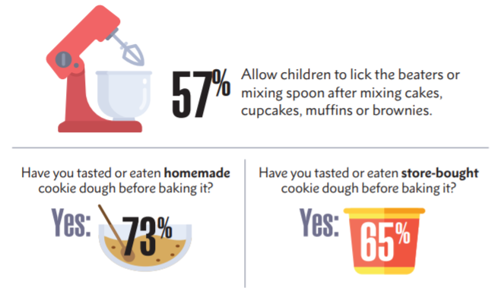 (Source: 2016 Ardent Mills Food Safety at Home and Restaurants summary)
When is flour is ready to eat? 
Food ingredient safety is important in professional kitchens and for home cooks, especially given that tasting batters before cooking is something that many consumers acknowledge doing. Ensuring that flour is ready to eat before cooking or baking is therefore essential to minimize microbial exposure risk.  
Given this environment, can you eat raw flour? When using non-heat-treated flour, recipes should be cooked or baked to appropriate temperatures in order to ensure that the food is safe to consume. Once heated as part of the cooking or baking process, the flour becomes ready to eat.  
A ready-to-eat flour option for consumer products.  
Not all final products are cooked before they are purchased by consumers, however. Think about raw cookie dough, frozen pizzas, cake and brownie batters, instant sauces, seasonings, and infant formula. These items are expected to be ready to cook and safe to eat at home. How can manufacturers ensure that the flour in these products' flour is ready to be eaten? 
It all begins with ingredients from a supplier who has control over preparation, storage, and delivery of ingredients once they arrive to a mill. That exact spectrum of needs is what led to the creation of the SafeGuard® Treatment and Delivery System, an integrated bulk heat-treated flour food-safety solution. 
What is bulk heat-treated flour? 
In order to ensure the safety of products, SafeGuard® ready-to-eat application flour and ingredients are prepared in a closed system, from treatment, to processing and delivery. In this proprietary process, ingredients are bulk heat-treated, and provide a third-party validated micro-reduction. Once the flour undergoes heat-treatment, sanitized pipes and bins transport the flour to packaging. This unique process exceeds common flour-milling standards and reduces microbial risk without the need for chemical treatments or ionizing radiation.  
Once flour has been handled in this manner, the heat-treated flour can then be used in ready-to-eat applications for retail and manufactured products. With heat-treated flour from the SafeGuard® Treatment and Delivery System, eating indulgent treats like ready-to-eat cookie dough is possible!  
Flour safety is possible in CPG and bakery.
No one wants to lose consumers over food safety or product quality. This is a challenge that Food Safety experts discuss every day with their work developing flour and ingredient solution for CPG manufacturers and the bread and bakery industry. "This is critical for customers who may use flour as a base ingredient in a ready-to-eat product for the end consumer," shared Chrissie Tuetken, Senior Food Safety & Continuous Improvement Specialist in a recent interview.  
When considering flour options for applications, flour that has gone through the SafeGuard® process can be used in a variety of applications to help reduce flour food safety risks related to microbiological threats. Gluten-functionality, enzyme activity and absorption levels perform well in breads, cold-pressed bars, cookie dough, pizza dough, mixes and numerous other products. 
Don't lose brand loyalty due to unsafe food ingredients.  
It only takes one bad experience with a food-borne illness to affect customer loyalty. Help prevent these experiences and reduce the risk of pathogens that cause these illnesses by offering ingredients that can be used in ready-to-eat applications 
When prompted whether that loyalty would be lost if food poisoning resulted as a result of a retail purchase, the results were clear: its safety or nothing for many shoppers.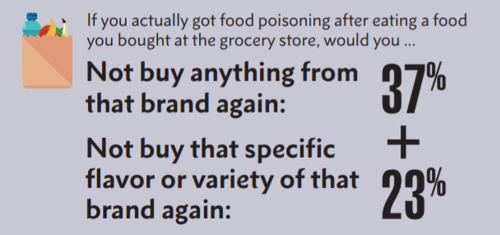 (Source: 2016 Ardent Mills Food Safety at Home and Restaurants summary)
It's never easy discussing food-borne pathogens, but product recalls are real issues facing manufacturers today. Stay ahead of many issues by asking key questions when developing new products or applications: Is your retail flour able to be used in ready-to-eat applications, such as cookie doughs? Are your frozen foods ready to bake at home? It may be time to re-evaluate your ingredients and flours and bring in an option that puts an emphasis on food safety. 
Want to learn more about how safe flour and ingredients are developed? Ron Burke, Senior Director of Food Safety, Quality, and Regulatory shared how his team takes on that challenge every day.