Sustainability Can Deliver on Both Consumer Demand and Profitability

Blog | March 16, 2023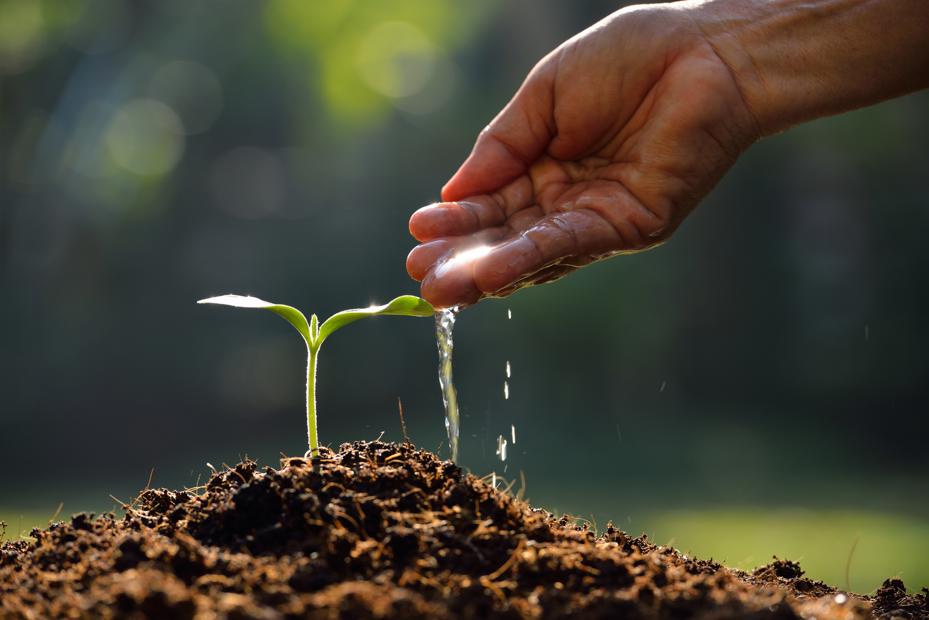 Delivering 54.7% of CPG market growth and commanding a 39.5% price premium,1 sustainability-marketed products are a smart investment for CPG and emerging CPG manufacturers.
Sustainability-marketed products are increasingly in demand with today's consumers and represent significant potential growth for CPG and emerging CPG manufacturers. Just consider that sustainability-marketed products make up only 16.1% of the market, and yet they delivered 54.7% of the CPG market growth (2015–2019).2 These products also grew seven times faster than products not marketed as sustainable.3
Fortunately, this space is still in its early stages for CPG manufacturers interested in building up their product portfolios. New products are being introduced at a quick rate to keep pace with consumers embracing this eating behavior, especially ones that fall under the regenerative agriculture label, which indicates a focus on improving the health of soil and minimizing harm to the climate.4 According to Ardent Mills analysis, the share of new products that were launched during 2018–2022 with a claim or positioning of regenerative agriculture increased at a 33% CAGR (compound annual growth rate).5
Are sustainability-marketed products a sustainable investment? Here are three reasons so many CPG and emerging CPG manufacturers think so:
1. Clear consumer interest and a rise in product launches creates strong demand
Sustainability and regenerative agriculture have strong momentum in consumer eating behaviors, with 77% of consumers indicating they believe sustainability is important when selecting products to buy (+12% from 2021).6 According to Ardent Mills proprietary research, a significant percentage of consumers participated in eating food plans that included foods grown with sustainable practices (25%) and regenerative agriculture foods (9%).7 Consumers plan to adopt more of these eating behaviors over the next year, anticipating a 70% increase in potential participation for sustainability-marketed foods and a 108% increase in potential participation for regenerative agriculture foods.8
Consumer interest in these products also explains the fast pace of new CPG product launches linked generally or specifically to sustainability through claims or positioning. About half of all new products in 2021 were sustainable, an increase of 20% from 2017.9 And other research indicates that 66% of consumers and 80% of young adults (18–34) are willing to pay more for sustainable products compared to less sustainable competitors.10 Sustainability-marketed products are filling up the shelves, and consumers are eager to reach for them.
2. Foods marketed as sustainable play nicely with other labels like "plant-based" and "organic"
The sustainability movement intersects with other emerging behaviors that have both scale and momentum. Across a wide range of grain and grain-based ingredients, consumers are seeking out food products that nourish their bodies while also actively contributing toward a better food system and practice, like plant-based and organic food products.11 In fact, Ardent Mills proprietary research reveals that sustainability-minded consumers are more likely than average consumers to eat plant-based (+23%), organic (+21%), regenerative agriculture (+57%) and foods made with sustainable practices (+48%).12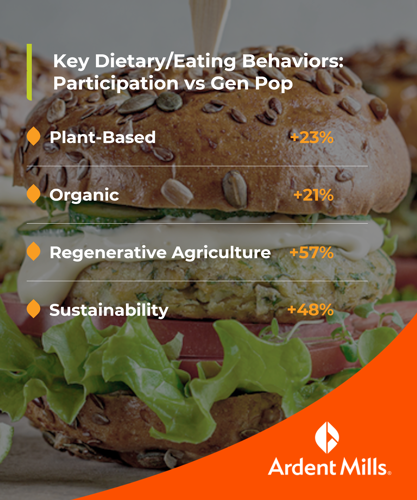 Ardent Mills proprietary research indicates that 46% of US consumers strongly agree the US food supply overall will face challenges in the future due to factors like a growing population and/or climate change.13 Sustainability and regenerative agriculture claims may appeal to consumers who want their food choices to reflect their values. Motivated by a combination of personal principles and worldly concerns, sustainability and regenerative agriculture have the potential to inspire long-lasting, loyal eating behaviors from consumers who make values-based eating choices.
3. Sustainability appeals to consumers across all food types, creating endless opportunity
CPG and emerging CPG manufacturers that move on sustainability-marketed products will have a nearly unlimited supply of options to consider, as the appeal of sustainability-marketed products has no boundaries when it comes to food types. Consumers are currently eating across a range of foods when looking to eat within the sustainability mindset, and they will eat more with increased availability. Here's a look at the foods consumers would like to be good for them but also good for the planet and food supply system: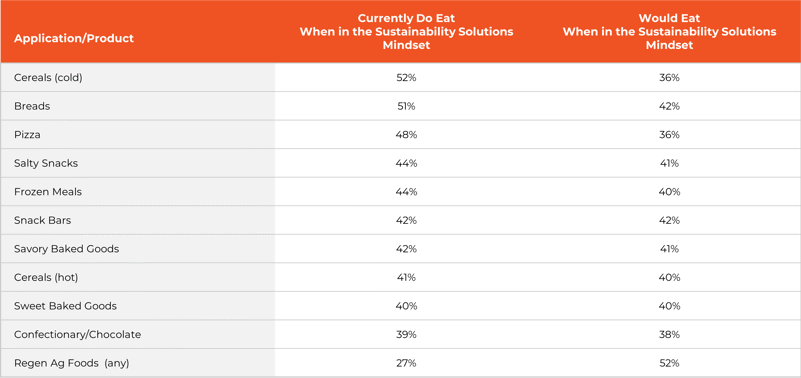 Source: Ardent Mills proprietary research, 2021
Today's consumers are concerned about our global future and their dietary choices are reflecting that. They want products that allow them to incorporate more foods made with sustainable practices into their diet, which means greater demand for cereals, breads, pizza and baked goods that have roots in sustainability or regenerative agriculture. While seeking out sustainable options, keep in mind that consumers will not compromise when it comes to taste and quality, so CPG and emerging CPG manufacturers must carefully consider sourcing ingredients. When you need the best ingredients along with future-forward strategies to help expand your product portfolio, think Ardent Mills.
Get in touch with an Ardent Mills Rep today! Call (888) 680-0013
1Kronthal-Sacco, Randi and Whelan, Tensi, "Sustainable Market Share Index," Stern NYU, Updated March 2021, https://www.stern.nyu.edu/sites/default/files/assets/documents/Final%202021%20CSB%20Practice%20Forum-%207.14.21.pdf
2Kronthal-Sacco, Randi and Whelan, Tensi, "Sustainable Market Share Index," Stern NYU, Updated March 2021, https://www.stern.nyu.edu/sites/default/files/assets/documents/Final%202021%20CSB%20Practice%20Forum-%207.14.21.pdf
3Kronthal-Sacco, Randi and Whelan, Tensi, "Sustainable Market Share Index," Stern NYU, Updated March 2021, https://www.stern.nyu.edu/sites/default/files/assets/documents/Final%202021%20CSB%20Practice%20Forum-%207.14.21.pdf
4Masterson, Victoria, "What is regenerative agriculture?", World Economic Forum, October 11, 2022, https://www.weforum.org/agenda/2022/10/what-is-regenerative-agriculture/
5Innova Market Insights
6"Sustainability and the Consumer," NYU Stern Center for Sustainable Business, September 13, 2022, https://www.businesswire.com/news/home/20220913006095/en/Sustainability-and-Consumer-Research-by-IRI-and-NYU-Stern-CSB-Showcases-Trends-and-Opportunities-for-Consumer-Products-Growth
7Ardent Mills proprietary research (weighted average of March, June, September, December: 2022)
8Ardent Mills proprietary research (weighted average of March, June, September, December: 2022)
9"Sustainability and the Consumer," NYU Stern Center for Sustainable Business, September 13, 2022, https://www.businesswire.com/news/home/20220913006095/en/Sustainability-and-Consumer-Research-by-IRI-and-NYU-Stern-CSB-Showcases-Trends-and-Opportunities-for-Consumer-Products-Growth
10Sustainable Brands Staff, "Majority of US Consumers Say They Will Pay More for Sustainable Products," Sustainable Brands, August 29, 2022, https://sustainablebrands.com/read/marketing-and-comms/majority-of-us-consumers-say-they-will-pay-more-for-sustainable-products
11Berry, Lisa, "Ardent leads regenerative ag program for farmers," Food Business News, September 27, 2022, https://www.foodbusinessnews.net/articles/22299-ardent-leads-regenerative-ag-program-for-farmers
12Ardent Mills proprietary research, 2023
13Ardent Mills proprietary research, 2021