Ardent Mills Sets Funding Record for Annual Colorado Charity Golf Tournament

Company News | June 28, 2018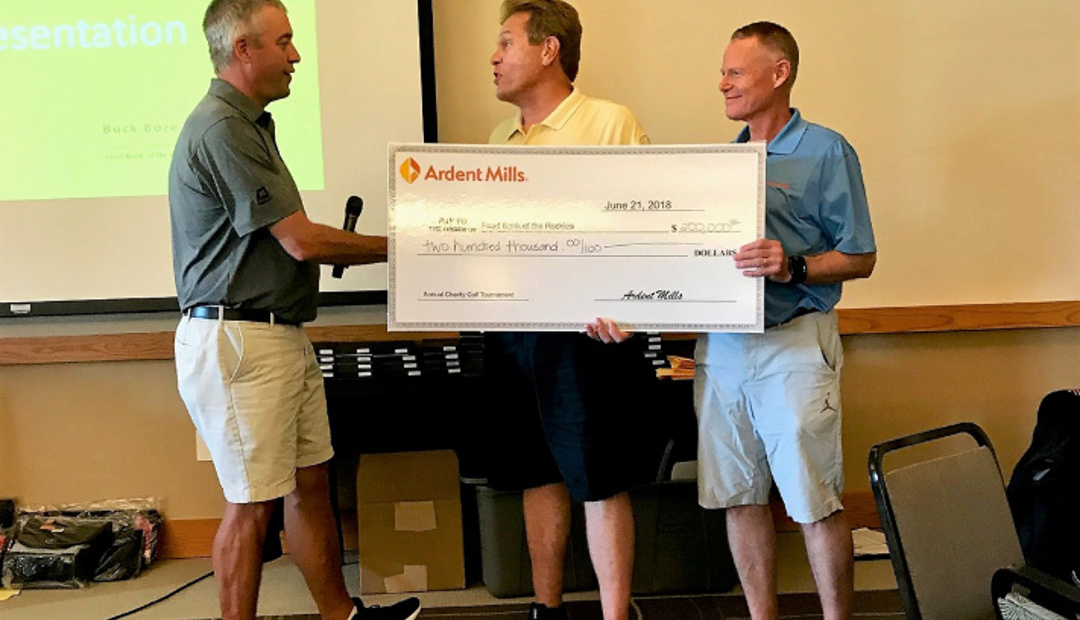 Denver, Colorado, June 28, 2018 – Ardent Mills, the premier flour-milling and ingredient company, joined forces with many of its vendors, suppliers and carriers by raising $200,000 for Food Bank of the Rockies with its fourth annual Colorado charity golf tournament, held at the Riverdale Golf Courses in Brighton, earlier this month.
"We extend our sincere appreciation to vendors, suppliers and carriers who have made this annual event such a huge success. Together, our single-day efforts have shattered the previous fundraising record of $140,000 and made 800,000 meals possible," says CEO Dan Dye, of Ardent Mills.
Food Bank of the Rockies interim President and CEO Michelle Barnes notes, "Food is the foundation for a happy, healthy life. Because of this event, 800,000 meals will be distributed to families who face hunger in our community. In our Colorado and Wyoming service region, hundreds of thousands of people worry about where they will find their next meal. Hunger is very real, and Food Bank of the Rockies, with the help of partners like Ardent Mills, is fighting to ensure food security is a reality for every family."
The annual charity golf tournament began in 2010 at a legacy company, raising more than $1,000,000 in total. Ardent Mills COO Bill Stoufer shares, "We are grateful to Ardent Mills team members who volunteer to make this event a success for the food bank. We are donating $500 each to a food bank or charity in each of the home cities of six businesses that were recognized by Ardent Mills team members for their strong partnership and support." These businesses include: Hood Packaging Corporation of Madison, Mississippi.; Point B Inc. of Denver, Colorado.; Fourkites Inc. of Chicago, Illinois.; Horizon Controls Inc. of Plymouth Meeting, Pennsylvania.; Interstates of Sioux City, Iowa; and United Warehouse CO. of Tulsa, Oklahoma.
An additional group of vendors was recognized at the event for their work to assist Ardent Mills in regaining operational status and providing grain-based ingredients and foods to Puerto Rico and the Caribbean region in the wake of last year's Hurricane Maria. Seven companies were honored by a donation of $500 each in their names to Hogar del Niño El Ave Maria, Bayamon, Puerto Rico, an orphanage sponsored annually by Molinos de Puerto Rico. These firms included: Great Western Manufacturing Co. Inc., W.W. Grainger Inc., Motion Industries Inc., Interstates, SCA Construction Inc., Ebmeier Engineering LLC and Foodliner Inc. 
About Food Bank of the Rockies
Food Bank of the Rockies (FBR), a non-profit organization, distributed nearly 49 million meals last year through direct service programs and partner agencies, serving clients in Northern Colorado, including Metro Denver, and the entire state of Wyoming. One in 10 Coloradans, including one in 6 Colorado children, struggle with hunger.  Since 1978, FBR has provided more than 615 million meals to people in need. Food Bank of the Rockies is a member of Feeding America.  For additional information, please visit www.foodbankrockies.org.  "Like" FBR on Facebook and Instagram, follow FBR on Twitter and subscribe to the FBR blog!
About Ardent Mills
Ardent Mills is the premier flour-milling and ingredient company whose vision is to be the trusted partner in nurturing its customers, consumers and communities through innovative and nutritious grain-based solutions. Ardent Mills' operations and services are supported by more than 40 flour mills and bakery-mix facilities along with a specialty bakery, Ardent Mills Innovation Center and Mobile Innovation Center, all located in the U.S., Canada and Puerto Rico. Deeply rooted in communities throughout North America, Ardent Mills is headquartered in Denver, Colorado and employs more than 100 certified millers, supporting thousands of local jobs and contributing billions of dollars to local economies. To learn more about Ardent Mills, visit ardentmills.com.
You may also like...