7 Ways For-Profit Businesses Can Maximize Nonprofit Contributions

Community / Leadership | April 18, 2023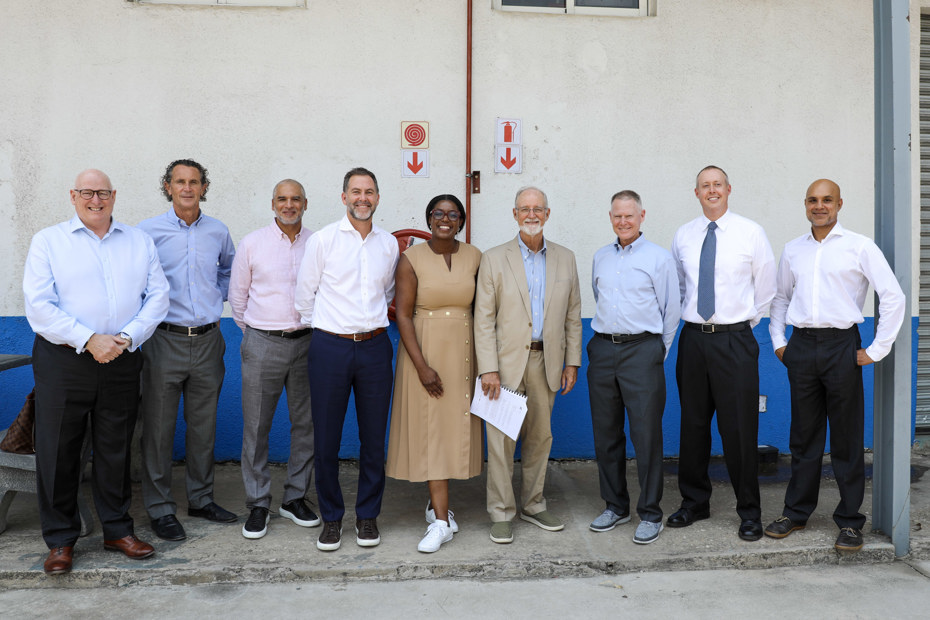 More and more, today's leading corporations are looking beyond their own success to understand how they can make a measurable impact on communities across the globe. And when you bring seasoned industry professionals and innovative nonprofit organizations together to work on some of society's biggest challenges, it's a partnership made to win. Part established businesses with experience to share, part grassroots organizations driven by a mission of service – all coming together to make a difference on a global scale.
Inspired by their value of serving, Ardent Mills is an active member of Partners in Food Solutions (PFS), a nonprofit organization that is working to improve food security, nutrition and economic development in Africa.
"I'm privileged, humbled and honored to see our Ardent Mills team members continue to volunteer year after year to help local food companies in Africa," says Dan Dye, CEO Ardent Mills and Board Member of Partners in Food Solutions. "It's inspiring to see what impact we're having and how they are, in turn, helping to feed a growing population and solve food insecurity in Africa."
At a recent board retreat in the Republic of Zambia, executives from Ardent Mills and Partners in Food Solutions had an opportunity to sit down and discuss how executives can maximize their contributions in the nonprofit sector. We've pulled together the top seven insights shared by these leaders to help other organizations live their values, empower nonprofit organizations and support their communities.
1. Connect your corporate values to your nonprofit service.
Your organization's service in the nonprofit sector should be rooted in its corporate values. As you begin to pursue and establish impactful nonprofit partnerships, examine those values and use them to fuel meaningful contributions.
Executive Tip:
"Our values, reflected through our Basic Beliefs and Purpose, have always called on us to support those in the communities where we live and work. As our business has grown, so too have our opportunities to deliver on this commitment. The Smucker employees who have generously given their time and talents have been inspired by the chance to empower these entrepreneurs who are focused on growing their businesses to deliver on the significant downstream impacts this success creates — from offering livelihoods for employees and demand for local farmers to providing quality food to a region that is battling food insecurity."
- Chris Todaro, Vice President, Coffee Operations & Operations Excellence, The J.M. Smucker Co.
2. Bring the focus back to communities.
One of the many inspiring things about partnering with nonprofits is the opportunity to impact communities that extend beyond where your customers (and their customers) live, work and play. When developing a partnership, consider how you can pour your knowledge and experience into problem-solving that reaches people in need across the globe.
Executive Tip:
"At Cargill, our employees are dedicated to helping their communities thrive, whether through personal volunteer efforts or financial support of local charitable organizations that matter to them. Our employees are committed to strengthening the communities where we live and work, which also supports the mission of the company to nourish the world in a safe, responsible and sustainable way. In coordination with partners like Partners in Food Solutions, our employees can use their own expertise and business experience to provide organizations and communities with services and knowledge that may be otherwise difficult to access."
- Kojo Amoo-Gottfried, Managing Director - Cocoa and Chocolate, North America, Cargill
"For me, I am most proud of Africa Improved Foods (AIF), which is our joint venture with the Government of Rwanda and other international partners. AIF is a purpose-driven for-profit enterprise that is replicable and scalable throughout Africa – and the world. AIF has created an ecosystem that helps bring an end to the tragedy of 'hidden hunger,' spurring economic growth and social stability through the creation of a manufacturing base that encourages and facilitates farmers to adopt better, more productive technology and practices.
"Since its opening in Q1 2017, AIF product has helped feed those suffering from malnutrition via school feeding programs, as well as famine relief efforts in Sudan, South Sudan and Somalia. AIF Rwanda sources maize and soy from more than 9,000 local farmers. It produces fortified cereals and porridges such as Nootri Mama™ and Nootri Toto™ which are sold to the Rwanda and Uganda commercial markets for about 1/3 the price of comparable imported products. The success, sustainability and scalability of this enterprise has exceeded my expectations."
- Hugh C. Welsh, President & General Counsel, DSM North America
3. Empower your employees to support a nonprofit with their valuable skill sets.
When your organization partners with a nonprofit, you can share in-demand and much-needed expertise with a company that will benefit from it. At the same time, it gives your employees an opportunity to expand their own skills and perspectives in the process. Supporting a nonprofit enables your employees to apply their talents and learn in ways that are likely somewhat differentiated from their responsibilities within your organization.
Executive Tip:
"We are proud to have supported several PFS clients and to have made great strides together in addressing challenges they face. Our employees who have led projects have reflected on how beneficial the work has been to them. In addition to the obvious benefit and pride of doing important work, the experiences have often called on us to use different muscles and think through challenges that aren't typical for our operations, which makes us stronger."
- Chris Todaro, Vice President, Coffee Operations & Operations Excellence, The J.M. Smucker Co.
"There is also a great benefit that working on PFS projects allows our employees to develop skills they might not otherwise practice in their daily jobs."
- Will Bonifant, Vice President, US & Canada Supply Chain, Hershey
4. Forge strong partnerships with other organizations.
"If you want to go fast, go alone. If you want to go far, go with others." This popular proverb reinforces a concept central to successful partnerships with nonprofits. If you want your organization's impact to have a meaningful, far reach, it's necessary to collaborate closely and strategically with other organizations. With the right partners, you'll be well positioned to add value, serve others and create scalable impact for the nonprofit sector of your choice.
Executive Tip:
"Through our collaboration with Partners in Food Solutions, we partner with six other leading food companies from around the world to help improve food security, nutrition and economic development in Africa. Together, we have a combined 800+ years of expertise, which helps us provide more support to African food companies than if we did it alone. Partnerships are incredibly valuable for The Hershey Company and enable us to create an even greater impact."
- Will Bonifant, Vice President, US & Canada Supply Chain, Hershey
5. Share the good work on social media, and in marketing and PR.
Sometimes the value you can offer nonprofits is not only about contributions like money and experience but also the exposure you can provide. Businesses that have a prominent social media, PR or marketing footprint can leverage these platforms to bring attention to the important missions of their partner nonprofits. For example, Dan Dye, CEO Ardent Mills, recently participated in a roundtable at the Bloomberg Sustainable Business Summit, where he shared key learnings from his visit to Zambia with Partners in Food Solutions. He then posted about the summit on LinkedIn to promote the mission.
Executive Tips:
"We are proud to share the progress of Partners in Food Solutions externally, notably across our social channels and in relevant reports. We believe in the mission of this organization and want to encourage others to consider supporting it."
- Chris Todaro, Vice President, Coffee Operations & Operations Excellence, The J.M. Smucker Co.
"For the past several years, we've incorporated Partners in Food Solutions into our annual Good to Give Back Month, where we focus on serving our local and global communities. This global initiative allows us to increase awareness of our partnership and engage employees from all around the world who may be interested in supporting our work with Partners in Food Solutions."
- Will Bonifant, Vice President, US & Canada Supply Chain, Hershey
6. Collaborate closely with the nonprofit's team.
The strongest partnerships are built with mutual respect and close working relationships. When working with a nonprofit organization, don't expect to carry the full weight of the partnership – and don't expect them to carry it, either.
Executive Tip:
"Our relationship with Partners in Food Solutions is truly a partnership. We count on PFS to manage the volunteer program, identify and work closely with high-potential food companies that our employees can work with, and ensure our employees are having an enjoyable and impactful experience. In return, PFS counts on us to help promote the program internally and increase awareness of our partnership. This allows us to take full advantage of their team and capabilities, which has helped us to steadily increase employee engagement over the past three years. - Will Bonifant, Vice President, US & Canada Supply Chain, Hershey
7. Share and celebrate wins with all stakeholders.
Partnerships shouldn't be all work and no play. An important part of enjoying the work you accomplish with your nonprofit partner organization comes from recognizing and celebrating the wins you have along the way – together.
Executive Tip:
"Celebrating the collective wins will be integral to our success. Just as with your own departmental team, it is important to take a moment to recognize reaching a target in order to sustain the momentum needed to press forward on to the next goal post. Today's major food system challenges transcend geographies and impact all areas of the economy. To make a measurable impact, it will take an 'all hands on deck' approach drawing on our combined strengths and innovation pipelines across the different value chains. Every milestone we reach is a testament to our individual and collective commitments to transform our food systems."
- Hugh C. Welsh, President & General Counsel, DSM North America
Business Can (and Should) Help Make the World Better
Building a profitable business is challenging, rewarding and takes time and effort to get right – and the very same can be said for building a successful nonprofit organization. For businesses looking to make a difference and serve others, nonprofit partnerships offer a powerful framework for sharing knowledge, inspiring action and making impact. We hope these ideas will help motivate you and your team to consider how you could make the most of a partnership with a nonprofit organization, ultimately expanding the impact of your business to those previously untouched and perhaps most in need.
Ardent Mills is an active member of PFS, a nonprofit organization that is working to improve food security, nutrition and economic development in Africa by sharing the expertise of leading food companies worldwide with emerging food businesses in Africa. To learn more about our partnership with PFS (and the revolutionary work PFS is providing), visit https://www.partnersinfoodsolutions.com/.