WELCOME TO OPEN ENROLLMENT 2018 FOR U.S. BENEFITS!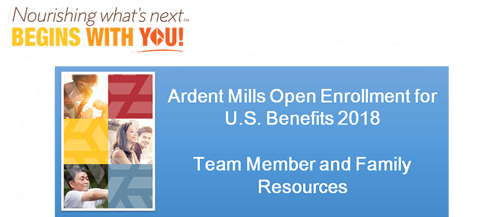 OPEN ENROLLMENT IS FROM NOVEMBER 1 – 15, 2017
Team members will need to log into ADP during this timeframe to actively enroll in coverage for the 2018 plan year. More helpful tips and things to remember for open enrollment can be found here:
INFORMATIONAL MEETINGS FOR YOU AND YOUR FAMILY:
We will be hosting several live meetings hosted by the Ardent Mills Benefits Team that all of our U.S. team members and their families are welcome to join. We will be covering the highlights of our medical, dental and vision plan options, along with a brief overview of the other benefits we provide. Attend the meeting that works best for your schedule!
Meeting Date: November 9th, 2017
Times: All meetings hosted at 7:00pm local time and will last about an hour, including:
7:00pm Eastern
7:00pm Central
7:00pm Mountain
7:00pm Pacific
Meeting Phone Number: 1-312-757-1164
Participant Code (enter this code after you dial the phone number above): 27661762
Link to materials that will be covered in the meeting: Family Presentation
OPEN ENROLLMENT 2018 CHECKLIST:
There are a few key things to remember for Open Enrollment this year, so we've created a checklist to help you and your family keep on track:
MORE RESOURCES TO HELP YOU LEARN ABOUT OUR BENEFITS:
Health Savings Accounts
What is an Health Savings Account (HSA) and how does it work? Let Blue Cross Blue Shield explain
HSA Plan Scenarios – Which Ardent Mills HSA plan is best for me and my family? Watch this video to look at three different team members and their unique medical needs to see which plan was the best for them.
Doctor On Demand
Now you can see a doctor from your smartphone! Check out this video for Doctor on Demand to see what kind of services you can receive, right from the comfort of your own home. Doctor on Demand is covered by our medical plan, and costs only $40 before you reach your deductible!
Take a look at how Doctor on Demand works: Video
Head to their website for more information, or download the app for iPhone or Android!
Which care center is best for me?
Take a look at this helpful chart to learn about which care center (like Doctor on Demand, urgent care, the doctor's office or the emergency room) are best for you and your family depending on the situation. There can be a big cost difference, so save yourself some time and money and take a look!