Primo Mulino Neapolitan-Style Pizza Flour is a 00-style pizza flour, ideal for high-temperature ovens that have become the mainstay of many artisan pizzerias. Leave supply chain issues behind with this unique flour grown and milled right here in the United States. Primo Mulino flour creates a soft, supple dough with great mixing tolerance, excellent water absorption, and works well with long fermentation. Request a sample today!
Primo Mulino® Neapolitan-Style Pizza Flour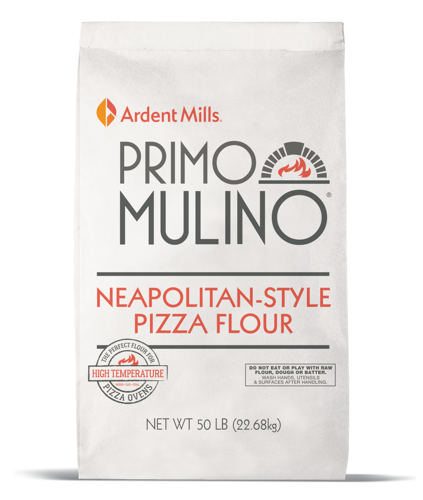 Competitive Price
Delivers an authentic Italian-style taste, at a United States flour price
On-Trend:
Ideals for pizza that bakes in 90 seconds in high-heat brick or wood-fired ovens
Locally Sourced:
Milled from high quality wheat varieties grown in the United States
Versatile:
Good for a variety of traditional pizza crusts, flat breads, ciabatta, and focaccia
Ardent Mills is dedicated to supplying restaurant and food service professionals with the right pizza flour for every application. As an American pizza flour and pizza mix supplier, we support you to create a high quality Neapolitan-style pizza crust. In addition to supplying quality ingredients, we have the technical know-how to help you create the best pizza crust possible!
Ready to try? Request a Sample!