Not organic, but it offers big potential for your brand now
Introducing a wheat that delivers a clean ingredient line option, all while helping support farmers who are transitioning to organic crops.
Ardent Mills' transitional wheat is a non-GMO grain that provides a quality flour with:
No bromates
No bleach
No enrichments
So what's the difference between organic and transitional?
Ardent Mills' transitional wheat is grown using organic farming practices required by the USDA and other governing agencies. After three years of growing under these conditions, the wheat can be certified as organic.
Although not organic just yet, transitional wheat delivers a quality milled flour you can count on the answer consumer demand for simple, basic ingredients. Think of it as organic wheat in training!
What's In It For Farmers?
Ardent Mills' transitional wheat helps farmers as they move from conventional to organic crops. We provide subsidies and several educational resources to make their journey to organic a success.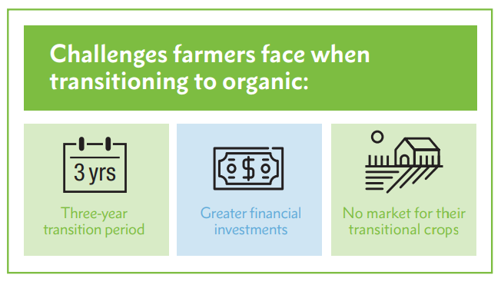 What's In It For My Company?
Transitional wheat offers your business and brand the opportunity to be a market innovator and leader.
It resonates with customers who are passionate about organic farming and Non- GMO foods.
It allows you not only to support family farmers transitioning to organic, but also to share farmer stories with your customer.
It provides the ability to add transitional certification claims to products, distinguishing your brand
It allows you to support the overall organic wheat supply chain
It provides an alternative price point relative to organic

The Annex
At Ardent Mills, we are passionate about bringing people the goodness of plants and grains in unique and innovative ways. That's why we created The Annex by Ardent Mills, a dedicated team committed to exploring what's next in whole grains, pulses, mixes, custom multigrain blends and specialty artisan breads.