News Room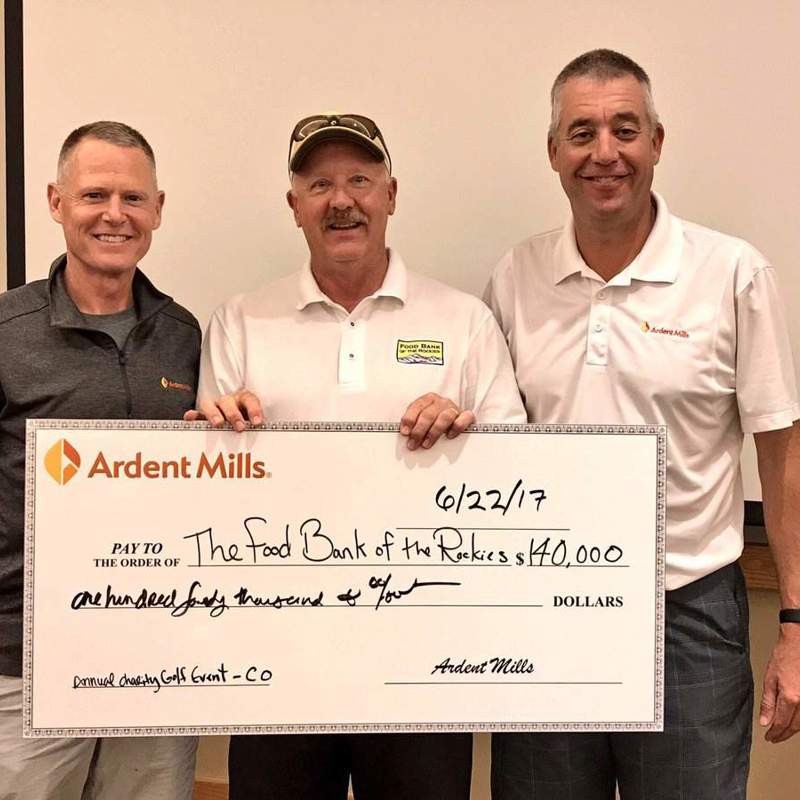 June 29, 2017 | Press Releases
Ardent Mills Exceeds Funding Expectations at Annual Charity Golf Tournament Benefiting Food Bank of the Rockies
Single fundraising record makes 560,000 meals possible in Denver community
Denver, Colorado June 29, 2017 – Ardent Mills hosted its third Colorado Charity Golf Tournament on June 22, raising $140,000 in a single day for Food Bank of the Rockies. For the past eight years, Ardent Mills has hosted a charity golf tournament inviting vendor and suppler partners along with team members to participate and donate. This year's event will make 560,000 meals possible in the Denver community, along the Front Range and in Wyoming.
"Each year we join forces with vendors, suppliers and our team members, and each year, we have come together to raise more money to help end hunger in our local community. This year was no different. We are humbled by the generosity and participation of others. I am proud to be a part of a single-day event that raised $140,000 for Food Bank of the Rockies," said Dan Dye, Chief Executive Officer of Ardent Mills.
Food Bank of the Rockies President and CEO Kevin Seggelke notes, "The Ardent Mills annual charity golf event is not only a significant fundraising and revenue opportunity for Food Bank of the Rockies; it is also important because the event raises awareness about the hundreds of thousands of people that worry about their next meal, just in our Colorado and Wyoming service region. We are thankful for the support of Ardent Mills and its partners and look forward to the years ahead."
"The annual charity golf tourney began in 2010," states Ardent Mills Chief Operating Officer Bill Stoufer. "We have a great volunteer committee that spends months planning and makes this annual event a success for the food bank. In addition to the money raised by our external partners and team members, Ardent Mills is donating $500 in each local community for our 10 external partners that we recognized as a supplier of the year. These partners include: TransCore of Atlanta, Georgia, Bulkmatic of Griffith, Indiana, Rasch Construction of Kenosha, Wisconsin, Active Truck Transport of Pleasant Prairie, Wisconsin, Cartotecina Postumia SPA of Puerto Rico, Documens of Montréal, Québec, Fastenal of Winona, Minnesota, Buhler Inc. of Uzwil, Switzerland, and WW Transport Inc. of Burlington, Iowa.
About Ardent Mills
Ardent Mills is the premier flour-milling and ingredient company whose vision is to be the trusted partner in nurturing its customers, consumers and communities through innovative and nutritious grain-based solutions. Ardent Mills' operations and services are supported by more than 40 flour mills and bakery-mix facilities along with a specialty bakery and Mobile Innovation Center, all located in the U.S., Canada and Puerto Rico. Deeply rooted in communities throughout North America, Ardent Mills is headquartered in Denver, Colorado, and employs more than 100 certified millers, supporting thousands of local jobs and contributing billions of dollars to local economies. To learn more about Ardent Mills, visit ardentmills.com.
About Food Bank of the Rockies
Food Bank of the Rockies, a non-profit organization, distributed nearly 44 million meals last year through our direct service programs and partner agencies, serving clients in Northern Colorado, including Metro Denver, and the entire state of Wyoming. 1 in 7 Coloradans, including nearly 1 in 4 Colorado children, struggle with hunger. Since 1978, FBR has provided more than 519 million meals to people in need in our community. Food Bank of the Rockies is a member of Feeding America. For additional information, please visit www.foodbankrockies.org. "Like" FBR on Facebook, follow us on Twitter and subscribe to our blog!