News Room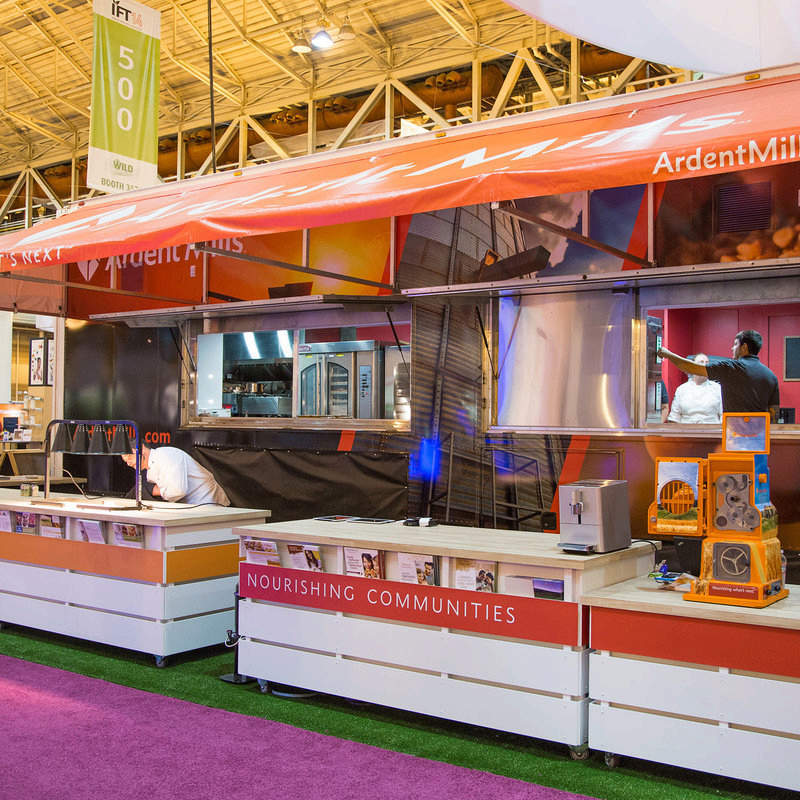 July 12, 2015 | Press Releases
Ardent Mills Brings Back Mobile Innovation Center, Plus New Developments to "Taste What's Next" in Grain Innovation at IFT 2015
Premier flour-milling and ingredient company shares nutritious new grain solutions at Booth #1254
Chicago, Ill., July 12, 2015 – Flour-milling and ingredient company Ardent Mills® is eager to return to this year's Institute of Food Technologists (IFT) Annual Meeting & Food Expo. Ardent Mills will be showcasing their Mobile Innovation Center (MIC) and announcing the launch of two new product lines: Ardent Mills Organic Flours and Grains and Ardent Mills Sprouted Flours and Grains.
One year ago at IFT, Ardent Mills had just formed as a new company born of two industry leaders (ConAgra Mills® and Horizon Milling®). The newly formed company hit the ground running in 2014, debuting the MIC—a state-of-the-art culinary center designed to bring creativity, hands-on education and interactive R&D support directly to customers. A lot has happened in a year, and now Ardent Mills is back with the MIC and a series of brand new products to boot.
Responding to the latest trend of food-conscious consumers who value local, ethical and pure foods, Ardent Mills will be demonstrating how they are delivering new ways to bring nourishing ingredients to the table. At IFT, Ardent Mills will be sampling applications such as a Toasted Crawfish Roll featuring 55% Sprouted White Spring Whole Wheat Flour and Wild Berry Mini Pies featuring 70% Organic Flour and 30% Organic 9-Grain Flour.
Ardent Mills will also be featuring new developments to existing products, such as Ultragrain® Plus Protein—another innovation to the Ultragrain product line, following in the footsteps of Ultragrain High Performance, Ultragrain AllPurpose Flour Blend T-1 and Ultragrain All-Purpose Flour Blend T-2. Food manufacturers and food service companies can play an important role in helping Americans meet dietary guidelines by incorporating whole grain nutrition into everyday products and menu items. Products like Ultragrain® make the switch easy by providing whole grain nutrition with the taste, texture and appearance of white flour that consumers love—and now in a variety of formats to meet any need. Samplings will include a Roasted Pepper, Eggplant & Goat Cheese Pizza featuring 100% Ultragrain Plus Protein Flour and Korean BBQ Pork Tacos featuring 100% Ultragrain Plus Protein Flour.
To round out the Ardent Mills product portfolio of nourishing ingredients, Ardent Mills will also be showcasing their Ancient Grain Flours, Custom Grain & Seed Blends, Sustagrain® Ultra-High Fiber Barley and Eagle Mills® Gluten-Free AllPurpose Multigrain Flour Blend.
"It's not just about health and wellness," says Dan Dye, CEO of Ardent Mills, "it's about offering consumers products that are both nutritious and delicious. Ardent Mills is nourishing what's next with nutrient-rich, on-trend grain solutions that deliver superior performance and consumer appeal." And as a fun activity at the booth, visitors will have the opportunity to pedal a bike designed to mill flour!
Visit IFT Booth #1254 to experience the Ardent Mills Mobile Innovation Center, meet Ardent Mills' experts and taste what's next in a new era of grain.
About Ardent Mills
Ardent Mills is the premier flour-milling and ingredient company whose vision is to be the trusted partner in nurturing its customers, consumers and communities through innovative and nutritious grain-based solutions. Ardent Mills' operations and services are supported by more than 40 flour mills and bakery-mix facilities, along with a specialty bakery and Mobile Innovation Center, all located in the U.S., Canada and Puerto Rico. Deeply rooted in communities throughout North America, Ardent Mills is headquartered in Denver, CO and employs more than 100 certified millers, supporting thousands of local jobs and contributing billions of dollars to local economies. To learn more about Ardent Mills, visit ardentmills.com.
Editors Note: Ardent Mills no longer offers Sprouted Flours and Grains, June 2020.