Blog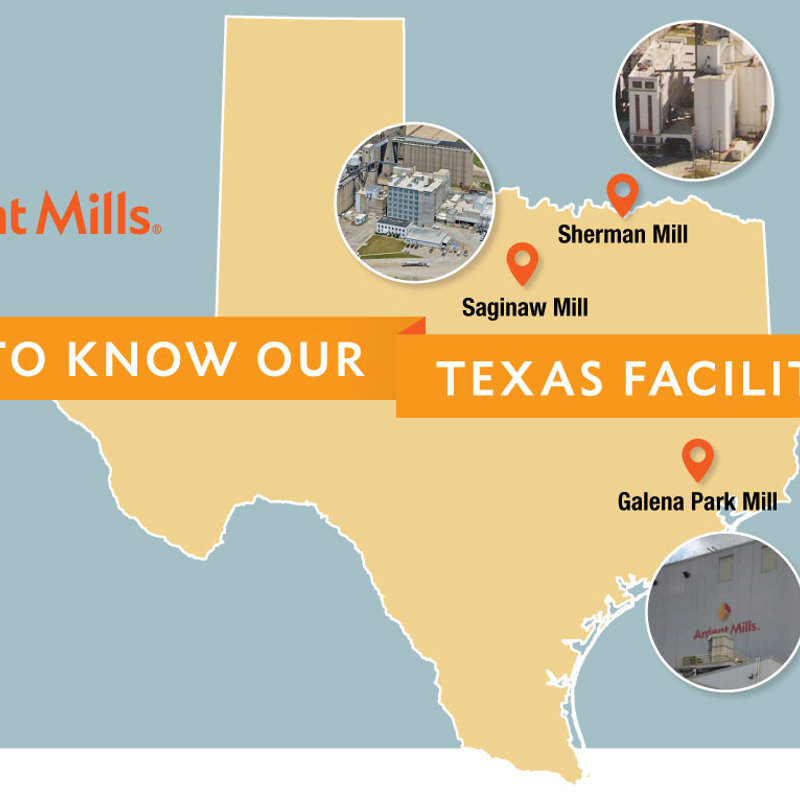 July 11, 2019 | Community/Leadership, Events
Bringing Top-Quality Flour to The Lone Star State Since 1923
At Ardent Mills, we are proud to be a leading flour and grain supplier in the great state of Texas, where we have three dedicated milling facilities: Galena Park, Saginaw and Sherman.
Our Texas mills produce the highest-quality flour and serve as a dependable, superior-quality source for the entire southern region of the U.S. Our customers appreciate that we are regionally convenient, as well as our ability—thanks to our end-to-end resources—to serve as a one-stop shop for many companies across the state.
Everything is Bigger in Texas… Including Our Capacity to Serve Local Customers
To ensure you know we're not all hat and no cattle, meet Ardent Mills' three facilities, which span the state and supply customers producing everything from tortillas to pastries, muffins to crackers, and pizza to fried chicken.
• Our Galena Park Mill boasts the only Satake-brand flour mill (Satake Corporation invented and began the production of Japan's first power-driven rice milling machine in 1896) in the U.S. The mill produces approximately 1.1 million pounds of flour a day.
• Ardent Mills' Saginaw Mill facility produces approximately 2.7 million pounds of flour a day. (Fun fact: Appropriately, the mill was originally the broadcasting location of the famous 1940s western swing band, The Light Crust Doughboys.)
• The Sherman Mill—known to have deep, multi-generational family roots—produces approximately 850,000 pounds of flour per day.
By domestically sourcing an array of wheat—from soft red winter to hard red spring and everything in between—we can meet the many and varying needs of our Texas-based customers.
Heading to Texas Restaurant Association (TRA) Marketplace July 14 & 15? Visit us at booth #1203, where you can speak with our team and explore our offerings. For more information, please contact us.