Blog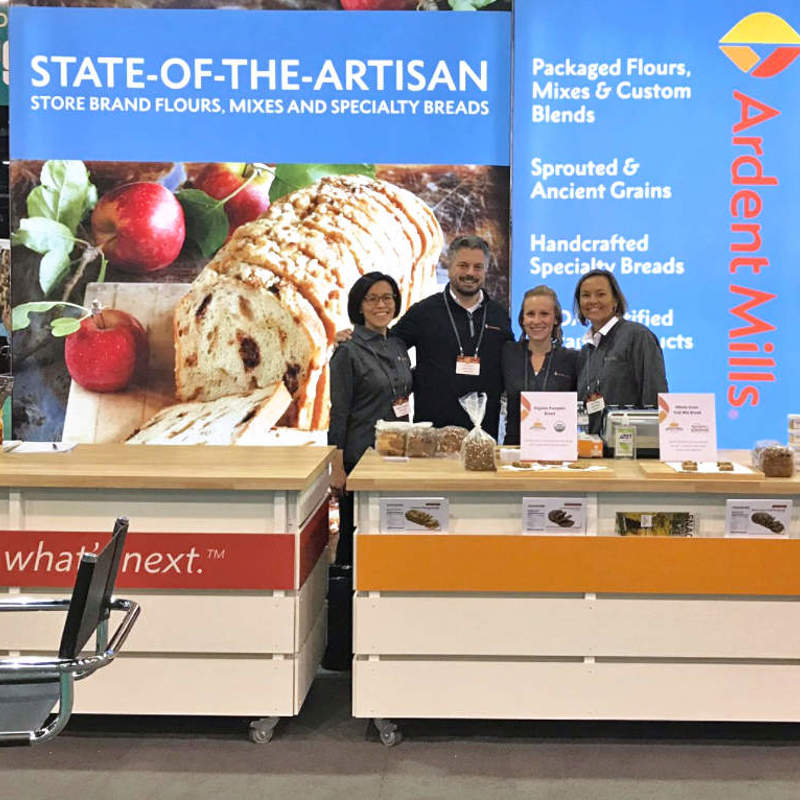 November 21, 2017 | Events
Private Label Manufacturers Association 2017 Annual Trade Show
Trade shows are one of our favorite ways to connect with customers and share our innovations with the industry. Recently, we exhibited at the Private Label Manufacturers Association (PLMA) 2017 annual trade show.
Held from Nov. 12-14, PLMA attracts thousands of attendees to Chicago, where buyers from a variety of channels—national supermarkets, foodservice distributors and specialty retailers—come together and connect with retailers from around the world.
Ardent Mills has exhibited at PLMA since 2015, and we always enjoy our experience at the show. With the holidays approaching, we sampled a variety of our Innovative Bakery Resources (IBR) breads and added a new twist on classic holiday flavors: Organic Whole Grain Pumpkin Bread, Whole Grain Trail Mix Bread and Cranberry Orange Bread. These IBR breads are a fun way to showcase our innovative grain lines, like Ancient and Heirloom Grains, and food-safety solutions, like our patented SafeGuard Treatment & Delivery System.
But bread innovations are just one way we can partner with private-label manufacturers. With a coast-to-coast milling network and flexible packaging capabilities, we are able to quickly commercialize new creations and provide a wide array of packaging options. We spoke with attendees about our ability to provide our flours, specialty grains, mixes and custom blends in a variety of paper bag sizes for their store shelves.
If you missed us at the show or were unable to attend, contact your account manager today to learn more about the endless number of grain-based options we can customize just for you. In addition, follow our Ardent Mills social media channels so you receive our trade show activities and posts in real-time.